At our Saint-Contest site, the platform is dedicated to equine health and biotechnology.
This shared platform hosts structures from a variety of backgrounds:
LABÉO, Normandy's analysis and research hub;

BIOTARGEN, Caen Normandie University research unit;

RESPE, Equine Disorders Epidemiological Surveillance Network;

3 start-ups, EQUIWAYS, EQUIBIOGENES and ANIMAL IMMUNE COMPANY respectively specialising in biosecurity, equine genetics and immunotherapy for the pathologies of the horse.
This platform was inaugurated in 2016 and has been highly successful. Its extension will be opened in 2022.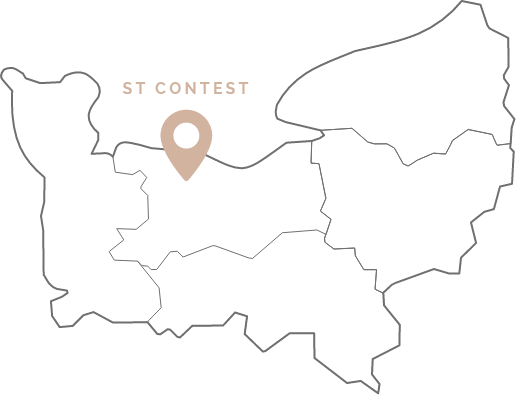 The total surface area of this platform is currently 1015 m², including 977 m² of usable space, allocated as follows:
tertiary zone: 346 m² 

"P1" laboratory zone: 172 m²

"P2" laboratory zone: 332 m² 

"P3" laboratory zone: 127 m²
The general layout of space in the building was determined by the aim of meeting the functional imperatives for the various activities, while also prioritising ergonomic and security criteria for users in addition to technical maintenance factors which are essential for this type of project.
Cost of the platform: 3.06 million Euros, funded by Normandy Regional Council (528 k€), Calvados Departmental Council (528K Euros), the EPERON Fund (780K Euros) and FEDER 2007/2013 (1.225 million Euros).
OUR PARTNERS IN SAINT-CONTEST EQUINE HEALTH ANALYSIS AND RESEARCH LABORATORY
Based on its 4 analysis platforms, LABÉO's equine health research focuses on the major issues in the sector. With its team of 20 people, it implements wide-reaching scientific programmes and also provides a competitive range of local-based services. MUSCULOSKELETAL AND RESPIRATORY BIOLOGY, GENETICS AND THERAPIES
This unit carries out translational and integrative research around the interface between human health and equine health for two major musculoskeletal and respiratory syndromes. Two thematic axes have been established around these syndromes in order to develop new strategies for diagnosis and therapy in the fields of both human and equine health. EQUINE PATHOLOGY EPIDEMIOLOGICAL SURVEILLANCE NETWORK
An association at the service of the entire equine sector, RESPE plays a role in organising its health care structure and brings together veterinarians and socio-professional groups on an equal footing. Thanks to a network of Sentinel Veterinarians throughout France, RESPE monitors equine diseases. It provides stakeholders in the equine sector with reliable health information and plays an active role in combatting epidemics. RESPE participates in running health crisis units as and when required.
CENTAURE SCIENTIFIC INTEREST GROUP

The CENTAURE Equine Research Scientific Interest Group (GIS) brings together 4 groups with complementary sets of skills: ANSES, CIRALE-EnvA, LABÉO and BIOTARGEN-Unicaen; with support from ComUE Normandie Université, local authorities (Calvados Departmental Council and Normandy Regional Council) as well as socio-professional bodies (Pôle Hippolia and the Eperon Fund). With a team of 62 researchers (PhD, HDR…), lecturers and assistants shared between 2 campuses at the forefront of technological progress, GIS CENTAURE aims to consolidate the Saint-Contest/Caen/Goustranville/Deauville axis as the French epicentre of equine research with the objective of becoming "Normandy Equin Valley: THE PLACE TO BE". Biosecurity expert in the equine field, Equiways assists professionals in the sector to establish control over their health risks by providing them with advice, audits, and training tailored to suit their staff. Equiways also develops innovative products that help deal with practical issues and contributes to various research projects.
Equibiogenes is a service provider specialising in equine genetics. Two bodies in the same company with the same DNA of excellence. Equibiogenes Génétique Équine and Equibiogenes Bloodstock. We work closely with some of the best universities and laboratories in the world and we can provide you with the latest innovations in equine genomics. SynchroGait was the first equine performance test released onto the French market by Equibiogenes. There are a range of tests on the market and we have sought to be highly selective in order to provide you with a range of reliable, widely recognised and useful tests for the day-to-day running of your operation.

Dedicated to animal welfare, Animal Immune Company (AIC) offers treatment for animals with certain chronic diseases such as asthma and arthritis to veterinarians and horse owners. Our treatment is based on the animal's white blood cells, which we then use to produce autologous cytokines in our laboratory.