The historical site for equine health research in Calvados which was founded  1986 when the Horse Disorder Institute and autopsy room were created, and it has continued to grow ever since.
Today, the site hosts 3 highly reputed bodies:
the

Animal Health Laboratory, Normandy site

, of the National Agency for Food, Environmental and Workplace Health and Safety (

Anses

);

The

Medical Imaging and Research Centre for Equine Locomotor Conditions (CIRALE)

, the Normandy equine hub of the Alfort National Veterinary School (EnvA);

the

Horseracing Laboratory

(LCH) of the National Horseracing Federation (

FNCH

) dedicated to fighting against animal doping.
The different stages of the site's development are listed below:
1986
Creation of the Horse Pathology Institute in Goustranville at a site called La Fromagerie: autopsy centre
1992
Opening of the CNEVA equine health research laboratory which became AFSSA in 1998 and then ANSES in 2010
1999
Installation of CIRALE, opening of CIRALE 1 in Goustranville: Medical Imaging and Musculoskeletal Condition Centre
2005
Extension of CIRALE, opening of CIRALE 2: Sports Medicine Centre
2010
Inauguration of the new Anses equine autopsy room
2016
Opening of the horseracing laboratory of the National Horseracing Federation (FNCH)
2018
Opening of CIRALE 3: sectional medical imaging centre
2020
Opening of KINESIA, physiotherapy and functional rehabilitation centre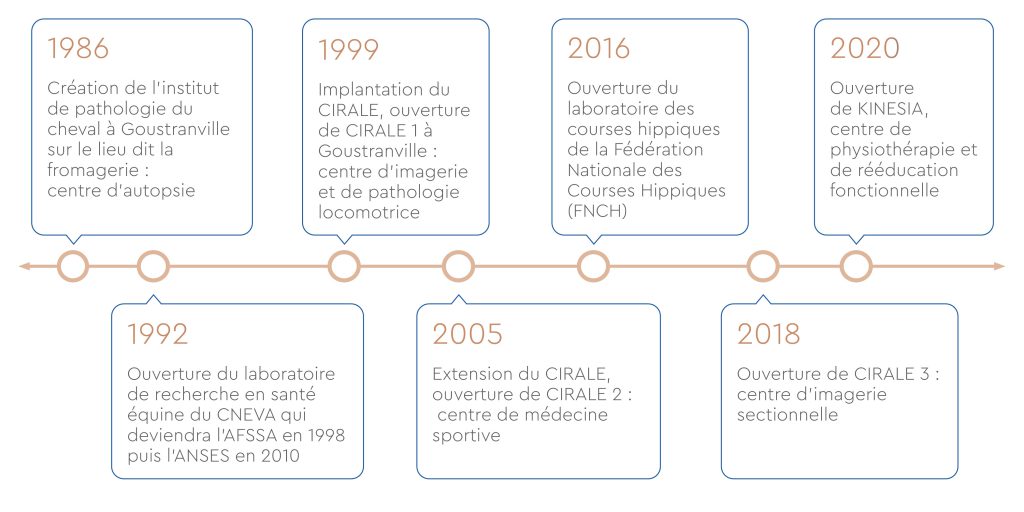 This site currently extends over 20 hectares of land with 6,500m² of building space allocated as follows:
"P1" and "P2" laboratories,

state-of-the-art medical imaging facilities: radiology, echography, scintigraphy, scanner, standing and reclining MRI,

physiotherapy centre,

autopsy room,

track, indoor arena and outdoor arena.
Cost: since 2010, the joint association has invested 15 million Euros into the site for the creation of a new autopsy room, the CIRALE 3 extension, the creation of a track, the outdoor arena and the physiotherapy centre. These investments have been financed in equal measure by the Regional Council and Calvados Departmental Council, with support from the Eperon Fund, the state and the FEDER fund.
OUR PARTNERS IN GOUSTRANVILLE

ANIMAL HEALTH LABORATORY, NORMANDY SITE
The PhEED unit (Equine Diseases Physiopathology & Epidemiology) of the Animal Health Laboratory, established in Goustranville, specialises in infectious and parasitic conditions affecting reproduction, persistent or emerging infections with major importance for the equine sector as well as epidemiological surveillance of these diseases and equine mortality.

MEDICAL IMAGING AND RESEARCH CENTE FOR EQUINE LOCOMOTOR CONDITIONS
Normandy equine hub of the ALfort National Veterinary School (EnvA), the Medical Imaging and Research Centre for Equine Locomotor Conditions (CIRALE) has become a world-renowned reference point for locomotor conditions and investigating reasons for poor performance in sports horses and racehorses.

HORSERACING LABORATORY
This National Horseracing Federation research centre is dedicated to combatting animal doping. It notably helps to develop new screening techniques.